Duratherm2 SC2
Self contained air supply and built-in electronic temperature setting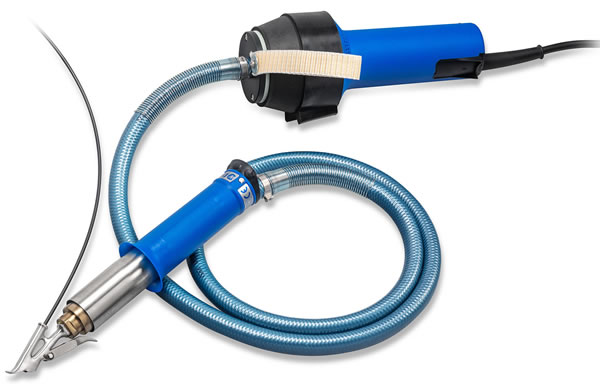 Picture shows optional accessories
Features:
Built-in electronic temperature setting
Self contained air supply
Hose connection angled downwards
Handle including nozzle fully rotable
Strain relief at hose connection
Insufficient air supply – safety disconnect
Heating element protection
Heating element 1,000 W
Net weight approx. 950 g
Perfect for welding in the overhead area
Technical Data
Duratherm2 SC2
Item no. 34604
Power supply:
230 V 1/N/PE 50/60 Hz
Power consumption:
1,000 W
Temperature*:
≤ 600 °C
Airflow (20 °C) external air supply:
60 l/min
Sound pressure level:
< 70 dB (A)
Weight approx.:
950 g
* = max. temperature deviates depending from the welding tip used.
(We recommend 45 to 60 l/min for welding)