Basic kit Autotherm3 WEG AB 60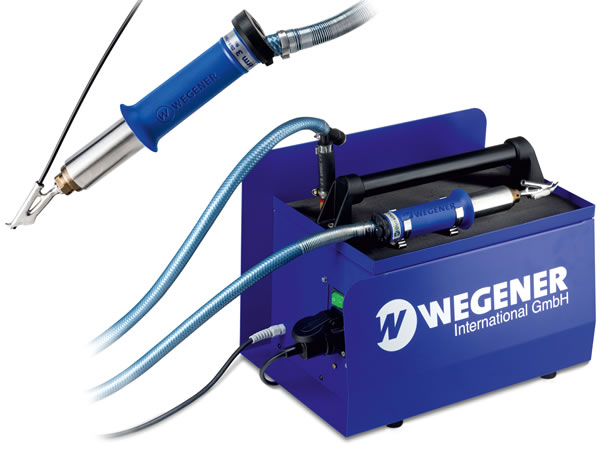 Picture shows optional accessories
Consisting of:
Hot Air Welding Torch Model Autotherm3 with named hose length
Spare heating element 1,000 W
One tacking Nozzle HD, one round nozzle RD 4 mm, one speed welding nozzle SSD 4 mm, one round brush for cleaning nozzles
On-site blower WEG AB 60 for two welding torches (incl. Air volume gauge)
Device stand
Carrying case
Features:
Integrated temperature control, infinitely variable adjustment of the welding temperature via push button, display of the actual and target temperature in the plaintext display
Air and electricity supply in one hose package
Hose connection points diagonally downwards
Handle incl. nozzle can be turned relative to the hose connection
Bend protection device at the hose connection
Safety cutout if the air supply fails
Heating element safety cutout
Heating element 1,000 W
Available with 4 m or 8 m air and electrical supply in one hose as well as 120 V Version
Technical Data
Basic kit Autotherm3 WEG AB 60
Item no. 25723 (4 m)
Item no. 25724 (8 m)
Power supply:
230V 1/N 50/60 Hz
Power consumption:
1,000 W
Temperature*:
up to 600 °C
Airflow (20 °C) external air supply:
40-60 l/min
Weight welder**:
460 g
Weight blower:
13.8 kg
* = max. temperature deviates depending from the welding tip used.
(We recommend 45 to 60 l/min for welding)
** = without connection lead